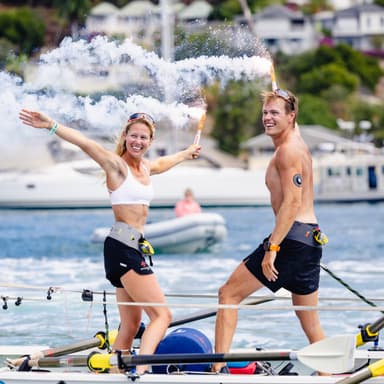 Polar Swim Challenge
2022 saw us take on both of the 'World's Toughest Rows' in the same year raising an amazing £40,000 for frontline medical charities.
For our next challenge we are quite literally going to the ends of the earth to take on an extreme swimming challenge. We are aiming to swim an official Ice Kilometre in the frigid waters of both the Arctic Circle and Antartica in nothing more than a standard Swimming Costume, aka speedos for Adam. No wetsuits, no lard, no excuses!
Water temperatures will be between -1°C and 4°C. Thats Chilly! To put this into context, more people have walked on the moon than have completed this challenge.
We are doing this to support two incredibly important charities that are close to our hearts:
1) Weston Hospicecare (50%)
Weston Hospicecare is the hospice where Adam has been working for the last year; it is an incredible charity providing specialist physical, emotional, psychological and spiritual support for those with a life-limiting illness.
The hospice recently won 'Charity of the Year' and needs your support to continue providing the amazing services to patients and families. The hospice costs around £5 million a year to run, only 20% of which comes from Government funding.
We have recently renovated our day hospice services but the 10 inpatient rooms are in desperate need of refurbishment. The direct impact this will have on the patients and their families cannot be understated. Your donations will help bring life to days.
2) Ocean Conservation Trust (50%)
Our time spent on the ocean during our Atlantic and Around GB rows forged a connection between us and the ocean and it was really important to us both that one of our chosen charities focused on ocean conservation.
We were drawn to the Ocean Conservation Charity from their ethos of wanting to connect people with the ocean - 'to protect nature, you need to start with people'.
They are a Devon based global conservation charity working towards a vision of a healthy ocean; vital for a healthy planet. We aim to support both their ocean experiences encouraging behaviour change and ocean advocacy alongside habitat restoration projects.
Supporting
When you donate to this campaign your donation will be split between these 2 charities:
Donations
Let's get the ball rolling! Be the first to support this cause by pressing Give Now!
Donations

Let's get the ball rolling! Be the first to support this cause by pressing Give Now!

Gallery

No campaign images have been added.